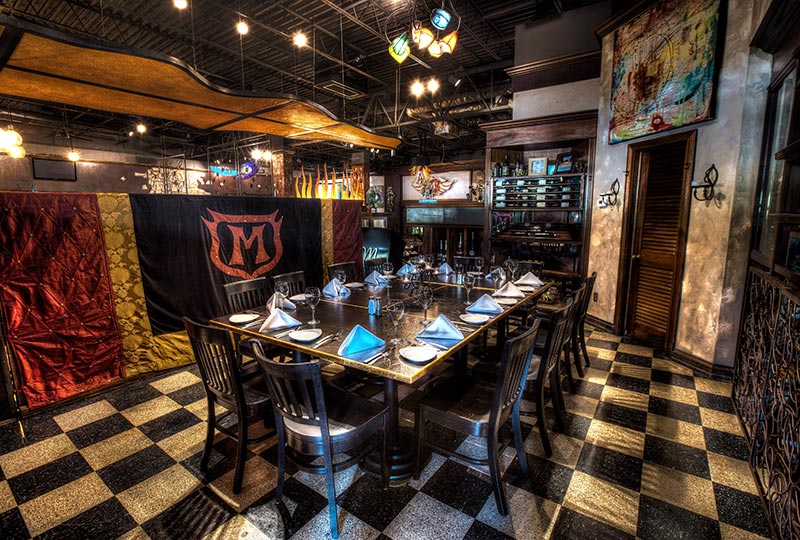 At Margaux's, our private dining rooms are available for those life events that make you smile and are talked about long after the party ends. We have a trifecta of attractive and uniquely designed spaces for hosting the perfect intimate dinner party, wedding reception or large corporate event. We know the benefits of private dining for our guests who want to celebrate in a setting and venue for that once in a lifetime experience.
For 27-years Margaux's private dining in Raleigh, NC has hosted just about every type of soiree imaginable from weddings to wine tastings, birthdays to bar mitzvahs. The ambiance meter is on high all year long to keep our guests coming back year after year. We set the tone and tables – you bring the guests for an enjoyable celebration designed to make friends and memories.
We don't take life and ourselves too seriously at Margaux's and are always prepped to share our love for great food, wine and artistic adventure with those who join us at the table. Not everyone needs a life event to celebrate but we're here to help you create a "just because" private dining party if the mood hits you.
Want to impress your family, friends or co-workers? We'll work our Margaux's magic with a private dining venue designed by a team of culinary experts and a passionate staff whose attention to detail is legendary.
The planning is easy
Just complete a private party/event form through our website or call the restaurant and Margaux's food and beverage manager will get your party started. We promise to keep you calm during the planning process, just let us know the estimated number of guests and any special set-up requests to help guide your private dining pleasure from the first course to the last toast of the night. We want your event to be hassle free and will coordinate everything for you to ensure your occasion is celebrated just right.
Get a room!
Bordeaux Room
56 guests for sit-down dining, 85 guests for cocktails, banquet or buffet. Fully private
You'll want to check your coat and cell phone at the door as you enter a private dining oasis. The artistic décor is a perfect backdrop for relaxing and mingling with your guests as you enjoy Chef Pettifer's culinary excellence. With a fully equipped kitchen, lavatory, private dining room and bar this private dining space offers an amazing array of possibilities for any occasion.
Rotisserie Room
12-18 guests, semi-private
A favorite place for a quiet, upscale private dining, the Rotisserie Room is just the right size for our 3-Course Prix Fixe event packages. Chef Pettifer and his staff create an amazing array of tantalizing dishes that will leave your palate spinning.
Reserve the Restaurant
150-275 guests
Margaux's is closed to the public on Sundays but our Raleigh, NC restaurant is available to reserve for large-scale, private dining events from corporate outings, reunions, receptions and a host of other events designed to get 200 of your closest friends together in one location. You get the band, bring the guests and we'll get the dance floor ready!
Catering to you!
If you can't come to us, Margaux's will come to you! We are pleased to work with outstanding Raleigh, NC corporate groups by offering a variety of chef inspired selections for any corporate function. Just complete the Catering Form on our website and we'll do the rest to coordinate your catering needs for a memorable event.
It has been said, that food is the emotion of the soul and at Margaux's we hope to fill your private dining experiences full of exquisite food, fun and friendships to last many years.
Raise a glass to Life!