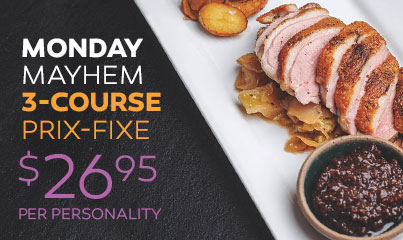 Monday Mayhem Special
3-Course Prix-Fixe all night $26.95 per personality. Same as our 3-course Tuesday Prix-Fixe, but available all Monday evening.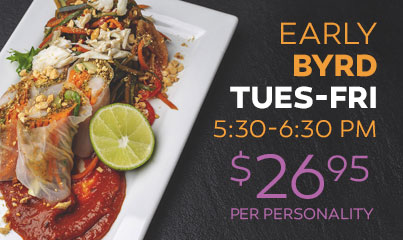 Early Byrd Specials
3-Course Tues-Fri: 5:00-6:30pm $26.95 per personality ($36.95 after 6:30pm) Same great taste, just a little earlier & a bit easier on the wallet. Generously delicious portions as well.
At Margaux's, you'll not only find an exquisite dinner menu that changes daily but a number of exciting specials and Early Byrd options throughout each week. With six chefs accompanying Chef de Cuisine Andrew Pettifer in the kitchen, the restaurant offers a diverse, eclectic mix of dishes from various parts of the world.
Pettifer encourages his staff to come up with their own dishes, based on the restaurant's ability to get the freshest ingredients. Whether it's seafood shipped in from the coast, meat from an exotic game supplier, or produce from local farmers, the restaurant is committed to using only the highest quality. From our pre-fixe menu special to the beer and burger special, our Raleigh NC restaurant has the dishes you want. And vegetarian guests are catered for, too, with vegan items always on the menu prepared by a vegan chef on staff.
An evening at Margaux's is a pleasure and a memorable experience, but you don't have to take our word for it. Read reviews from hundreds of satisfied guests on OpenTable, Tripadvisor, Yelp, Facebook, and Kayak.
Click here to view tonight's dinner menu and make your reservation for one of the highest quality steak restaurants in Raleigh, NC today.
Come and explore the many ways Margaux's menu can excite your senses. Your palate will thank you!