Let us help make your next private party a truly unforgettable experience. From upscale cocktail gatherings to sublime sit-down dinners. Whether for corporate events or celebrations with family and friends, when you choose Margaux's you can feel confident that your event will be talked about long after it's over.
Margaux's offers plenty of in-house options as well as on-site catering in the Raleigh area. Some of the event types we can accommodate include: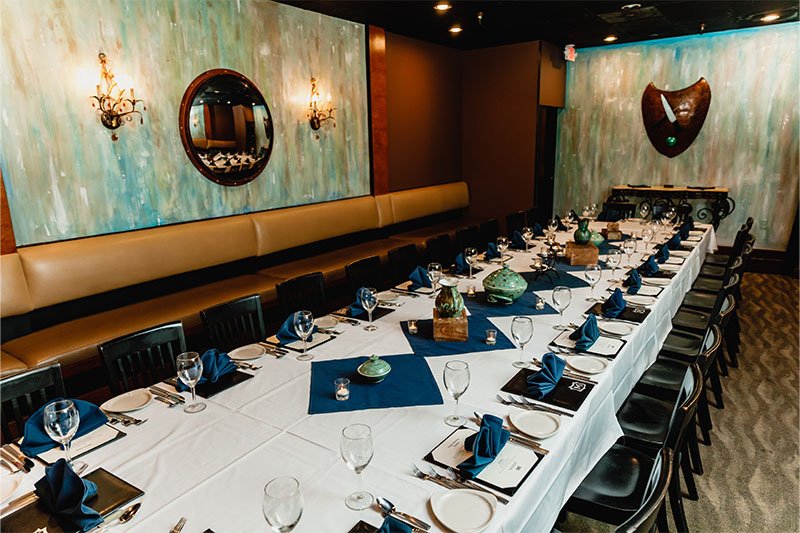 The Bordeaux Room can accommodate up to 46 people for a sit-down dinner. It is a completely self-contained, private dining room with its own kitchen, lavatory, dining room & bar. A 25-person minimum number of people & one check is required to reserve this room.
A $500 non-refundable deposit secures the room which increases to $1,000 during the month of December. This deposit is applied to your final bill the evening of your function.
For groups of 25 or more, a 3-Course Prix-Fixe Menu is designed for you, which takes full advantage of the seasonality of our ever-changing menu. Prices begin at $72.95 per person for the prix-fixe menu.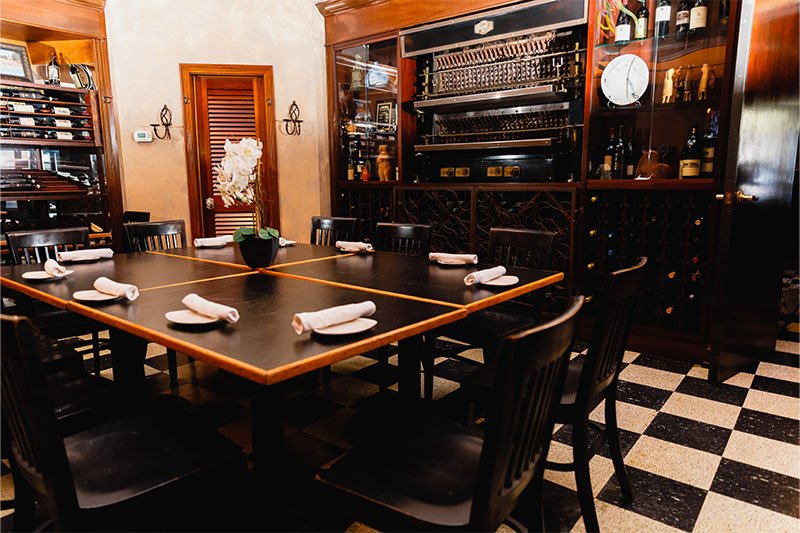 The Rotisserie Room can accommodate 12 to 18 people for a wonderful night of food and fun in a semi-private dining experience. A $250 non-refundable deposit is required to reserve the Rotisserie Room & a $500 non-refundable deposit during the month of December. This deposit is applied to your final bill the evening of your function.
With groups in this setting, Chef Pettifer and his team seamlessly execute a 3-Course Prix-Fixe package starting at $72.95 pp.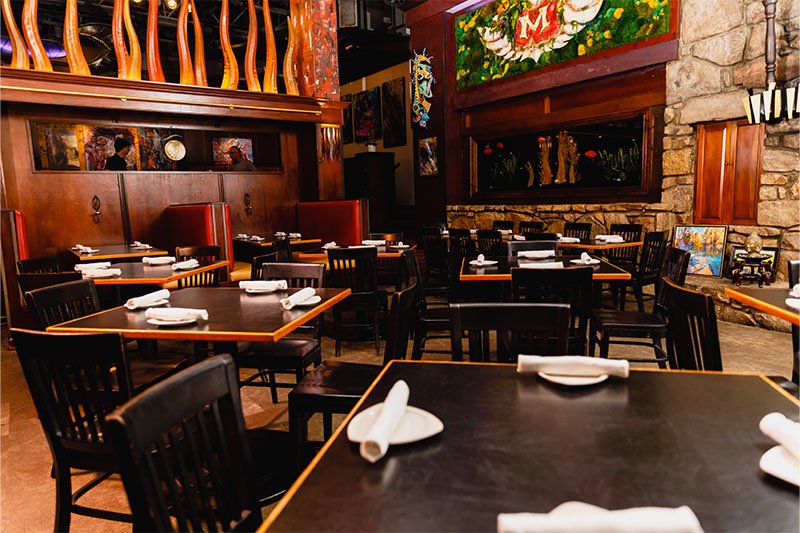 Since Margaux's is closed to the public on Sundays, we make our entire restaurant available for large events (150-275 people) with full-service catering to Raleigh NC customers. This can include our Rotisserie and Bordeaux rooms, our spacious bar area, and the main dining room that has plenty of space for a band and dance floor.
Catering & Party Inquiry Form
"*" indicates required fields
In-House Venues
Margaux's Restaurant provides two excellent in-house venues for your private party in Raleigh, NC:
Raleigh Corporate Event Catering
Are you looking for catering for your next private corporate event in Raleigh, NC? At Margaux's Restaurant, we offer fine dining delivered directly to your corporate event. Our full-service catering is sure to impress and amaze your guests through outstanding flavors, delicious cocktails, and impeccable service.
Let us help you plan all your Raleigh corporate events. Our passion is high-quality food combined with excellent service, and a skilled staff to address all your needs. Our expert team is experienced in all aspects of event planning and catering for corporate functions. We provide standard equipment for events, as well as consultation on flowers, decorations, menu planning, and entertainment.
When you are considering restaurants for an important private corporate event in Raleigh, NC, Margaux's is ready to serve you the most exciting and abundant lunch or dinner. It can be difficult to find private restaurants that can host a large group efficiently, while still providing delicious food and amazing service. With two elegant private dining rooms, we are able to serve smaller groups of 12 to 18 people for an intimate gathering or larger parties of up to 65 people for a more expansive soiree.
If you need more space than our private rooms can offer, consider renting out our entire restaurant for your important event. Our restaurant is closed to the public on Sundays, allowing you to book the entire Margaux's space. You'll also benefit from special event staff for undivided attention, and room for 150-275 people.
The next time you are searching for the finest Raleigh corporate event catering, skip the bland traditional catering companies and choose Margaux's for unparalleled service, spectacular cuisine, and beautiful memories. We bring the finest flavors, tasty cocktails, and friendly service to every event.
A corporate dinner will be a night to remember with our delectable cuisine. Let Margaux's cater your corporate event or provide incredible ambiance for your private restaurant corporate gathering and find out why we are the best corporate catering and dining restaurant in Raleigh.
For additional information or to book your private party in Raleigh NC, please call us at (919) 846-9846 or simply fill out the Catering & Party Inquiry Form, and we'll call you back within one business day.
Off-Premises Catering
Margaux's also provides full service, off-site catering, so you can enjoy the tastes of our cuisine at your favorite venue. By choosing us for the best catering in Raleigh, NC, you'll be sure to impress your guests with our trays of truly delectable delights! From your home to your office, a cocktail party to a full-service, sit-down dinner, we're certain to make you a hero! Remember, our food is always talked about afterward.
Beyond our distinctive flavors, we can complete your event by providing highly professional staff and all the necessary catering equipment you need. With our significant experience, we can assist you in developing event concepts, flower arrangements, menu planning and even suggest local entertainment for your private party in Raleigh, NC.
Most importantly, we make the planning part easy. Let us sweat the details of preparation, so you can be treated as a guest at your next social endeavor. Our Off-Premises Catering Services require a minimum of 25 people. Be sure to check out a few of our sample catering menus, and call us at (919) 846-9846 or email us today to start planning your menu.