Dining Trends for Fall 2020: the post-COVIDalyptic era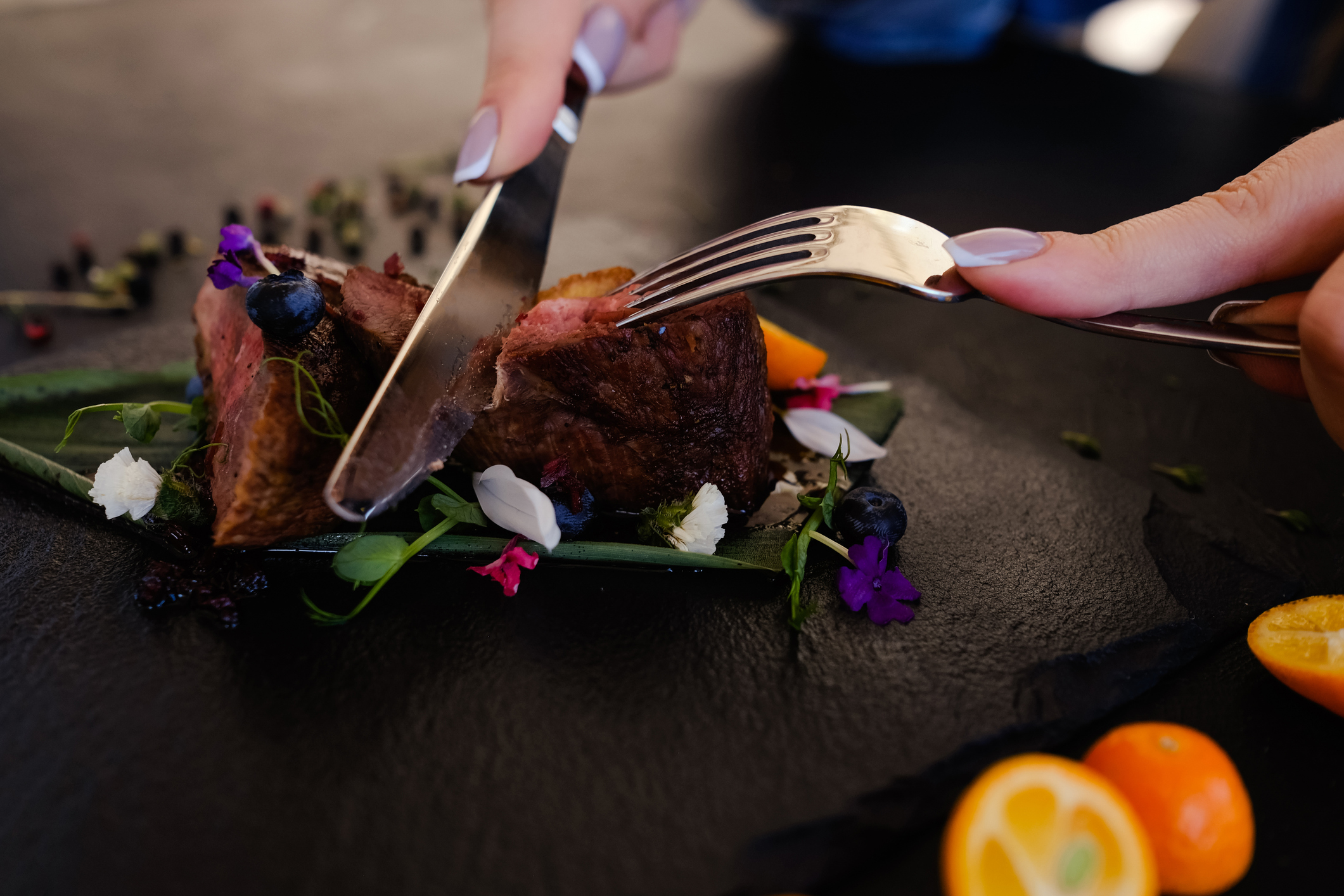 Despite all the upheaval of 2020, North Carolinians love and continue to search for new and exciting dining experiences—from inventive cuisine to delightful ambiance—and that's as true whether you're looking for a Raleigh restaurant with private rooms, or a lush outdoor setting that transports you from the daily grind.
So what's high on the excitement list for Fall 2020?
Expanded array of beef, pork and novel meats: maybe in part because of the Keto diet's continued popularity, meats are continuing to be in demand. That trend is only growing this Fall, even including some of these less common types:
Skirt steak—a very juicy cut, heavily marbled; the beef variety is most commonly seen, but pork skirt steak is also delicious.
Beef shanks—slow cooked in stews, rich and ready for fall's hearty flavors.
Kangaroo—lean, with a robust flavor and only mildly gamey (think: rabbit).
Plant-rich cuisine: meat-plant blends, vegetarian and vegan dishes are all achieving main-menu status:
Wider range of proteins—Beans, nuts, seeds, tofu and cheese have now been supplemented by eye-openers like the Impossible Burger and Beyond Meat selections, prompting innovative taste treats popping up on hors d'oevres trays, appetizers and entrées.
Newer offerings—Among the many new ingredients you might see is Jackfruit. A product of a tree in the fig family—this 5-6 pound melon-sized Asian fruit has a flavor and melt-in-your mouth texture that some compare to pulled pork, with a sweetness all its own.
Easy way to explore—If you're new to the plant-rich trend and wondering how any of these can create a satisfying meal, having a professional introduce you to new tastes and preparation methods is an easy and safe way to dabble in new flavors. Even better, take your extended crew to a Raleigh restaurant with private rooms, allowing you to sample new dishes without the full-meal commitment, while still staying socially-distanced.
Fresh takes on cocktails: Two big trends are coming together this fall (and that's not including the explosion in at-home wine drinking!):
Revamped classic cocktails—think of the Old Fashioned, Negroni, Dry Martini or Whisky Sour, all being updated with flavored liquors and splashes of bartenders' unique seasonal-flair add-ins. Making a rapid rise for those in the Martini camp is also the Espresso Martini—featuring a heart palpitating blend of coffee and vodka to keep you going at any hour.
Zero-proof cocktails—we're a long way from the Shirley Temple these days! Bartenders are meeting the demands of health-conscious and safety-sensitive patrons. Some want to stay sharp for corporate dinners, others to relieve the burden (boredom?) of being the designated driver by enjoying imaginative, and often stunning, potions-by-the-glass. Today's non-alcoholic mocktails are artful-crafted blends of extracts and infusions, teas and coffees, bitters, ciders, syrups, sodas and more. You (might) barely notice the lack of alcohol.
Personalized experiences: not just for the rich and famous, or for high-end catered events. In this new post-COVIDalyptic era, North Carolinians are hungrier than ever for eating out, and of course restaurants are hungry to have them back! All of which is going to drive even more interest in diners' experiences being tailored to their wishes—in person, and online.
When dining out—you can expect to see more establishments keeping track of your favorite dishes and allergies, and asking get-acquainted questions when you make reservations so they can make you feel more at home and more of a special guest when you arrive.
When holding an event—expect all the above, 10x. Any Raleigh restaurant with private rooms will be striving to create a memorable, safe, personalized experience for hosts and their guests. It's possible you may see small-midsize events on the rise as we (hopefully) move safely into the Fall, with some guests still wanting to limit group gatherings in their homes, and others simply eager to be entertained at welcoming venues other than home.
That's what's topping the trends list! Expect Fall 2020 to be filled with delights as North Carolina patrons savor these new trends in Raleigh and the surrounding area.