3 Reasons Margaux's is the Best Private Dining Raleigh NC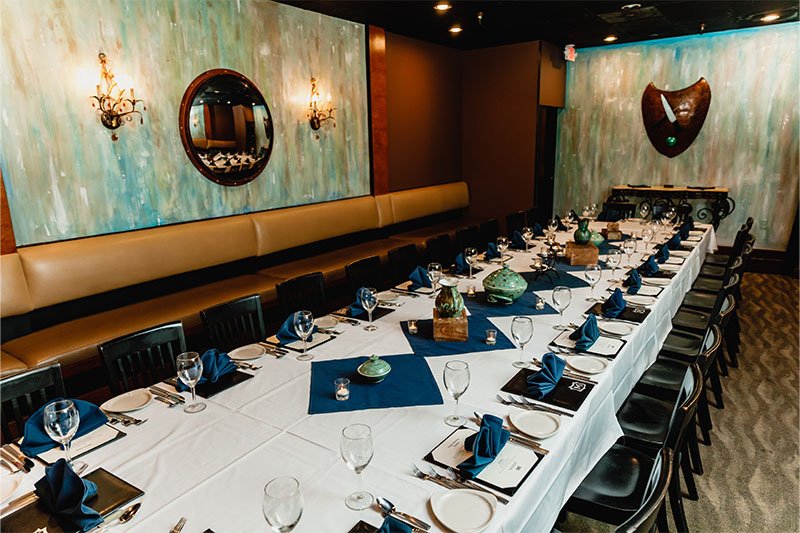 We love to party at Margaux's, so it's probably no surprise that we've been one of the best private dining Raleigh NC for more than 30 years. We always strive to meet (and exceed) your expectations at Margaux's, so we've designed our private parties to include the things that matter most to our guests, based on feedback over the years. We've noticed that regardless of the occasion, people planning a special event tend to want the same things in a private dining venue:
1.    Ample privacy to celebrate with your loved ones without distractions from other restaurant patrons
Whether you're planning a rehearsal dinner, a corporate event, or a birthday dinner with 12 of your closest friends, we've got private dining options for parties of all sizes at Margaux's:
12 to 18 people: Share a three-course meal with your closest friends and relatives in our semi-private Rotisserie Room.
Up to 46 guests: Our completely private dining room, the Bordeaux Room, includes a dedicated kitchen, a separate bar, and a private lavatory, so you and your guests will feel like you have your very own restaurant for a night.
Up to 275 people: Rent out our entire restaurant with full-service catering for private events on Sundays, when Margaux's is closed to the public.
2.    Fresh, flavorful food with menu options for gluten-free, vegetarian, vegan, and dairy-free guests
When you host a private party of any size at Margaux's, Chef Pettifer and his team of chefs will design a custom three-course prix-fixe menu just for you and your guests. Our chefs will design each dish on your custom prix-fixe menu to highlight the fresh, seasonal produce and meats from our local purveyors.
When you book your private event, make sure to mention any food allergies or dietary restrictions so our chefs can keep those in mind as they plan your meal. Your menu will include a selection of meat and seafood dishes along with vegetarian, vegan, gluten-free, and dairy-free options, so guests with food allergies or dietary restrictions can relax and enjoy the celebration. Your custom menu will identify gluten-free (GF), dairy-free (DF), and vegan (V) menu items; we will also indicate any spicy (S) dishes and menu items that contain nuts (N).
3.    Stellar service in an upbeat, eclectic atmosphere
We want you and your guests to keep talking about your private event at Margaux's for years into the future, so all of our servers are experienced with private parties and will help to ensure that your night is a success. In fact, many of our servers have been part of the Margaux's family for years and know how to make every part of your special occasion memorable.
Your server(s) will bring out each course just when you're ready for it, and we'll make sure to keep the libations flowing and the water glasses full.
If you're planning a private party, reception, family meal, or special event of any size, your search is over: Margaux's is the best private dining Raleigh NC has everything you're looking for. Since we are one of Raleigh's top private dining venues, our space fills up quickly, so go ahead and make your reservations today. Fill out our Catering & Party Inquiry Form, and one of our staff members will contact you to help plan your private dining experience.