Best Restaurants for Dining with Large Groups in Raleigh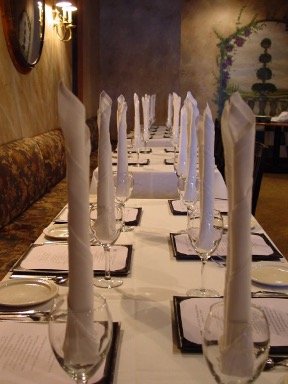 Every group of people is unique, but when it comes to group dining, groups of all sizes tend to want the same thing: delicious food, great service, and a welcoming environment that fosters connection and conversation. If you've ever sat through a poorly executed group dinner where you're still waiting for your appetizer while your friends at the other end of the table are finishing their desserts, you know that not all restaurants are capable of serving large groups well.
If you're hosting a large group meal in Raleigh, keep reading for tips on choosing the right restaurant so every member of your party has a positive group dining experience.
What to Look for When Dining with a Large Group
Space—Can everyone in your group fit comfortably in the allotted space? Look for restaurants designed to seat large groups in the main dining area or in a separate or semi-private room. Comfort is essential for a successful group dining experience, so don't settle for a restaurant that has to rearrange tables to make room for your party.
Privacy—Do you want a completely private dining area that is separate from the restaurant's main dining room, or would your group prefer a semi-private dining area? Consider your guests' individual needs: If members of your group struggle to hear in loud public spaces, look for restaurants with private dining areas, which should have less background noise.
Menu—Does the restaurant offer a special menu for large groups? If a restaurant features a special Prix-Fixe menu for large groups, that's a good sign that the restaurant regularly serves large groups, so the chef, staff, and servers have probably streamlined every step of the process.
Atmosphere—Does the restaurant's ambiance match your group's overall energy? A restaurant's lighting, décor, and the servers' attitudes can all affect the tone of your evening, so choose a venue with an atmosphere that will bring out the best in your guests.
Large Group Dining at Margaux's
Large groups in Raleigh have been sharing meals at Margaux's for the last 30 years, and they keep coming back for corporate events, receptions, family reunions, and celebrations because Margaux's knows how to transform a large group meal into a fulfilling, intimate gathering that guests can't wait to repeat.
Private Dining Room for Large Groups
Share a three-course meal with up to 46 of your closest friends in Margaux's Bordeaux Room, an elegant private dining area that features a dedicated kitchen and bar along with a private lavatory. Margaux's chefs design a custom prix-fixe menu to highlight fresh, seasonal meats and produce for each group dining in the Bordeaux Room, so your guests will get to enjoy three courses of Margaux's delicious fusion of Southern, French, and Asian cuisines.
Private Dining for Very Large Groups
If you're looking for a venue to host up to 275 people, you can rent out Margaux's entire restaurant for private functions on Sundays. You and your guests can dine, dance, and drink in Margaux's private Bordeaux Room, semi-private Rotisserie Room, spacious dining room, and eclectic bar area.
Make Reservations in Advance
If you're hosting a large group dinner in Raleigh, Margaux's will satisfy even the most persnickety member of your group. Since Margaux's is one of the top restaurants for large groups Raleigh, make reservations early if you have a particular day or time in mind. Fill out the Catering & Private Dining Inquiry Form today, and one of Margaux's friendly and experienced staff members will contact you to discuss your group dining needs.