The Importance of Team Building Dinners at Restaurants for Large Groups Raleigh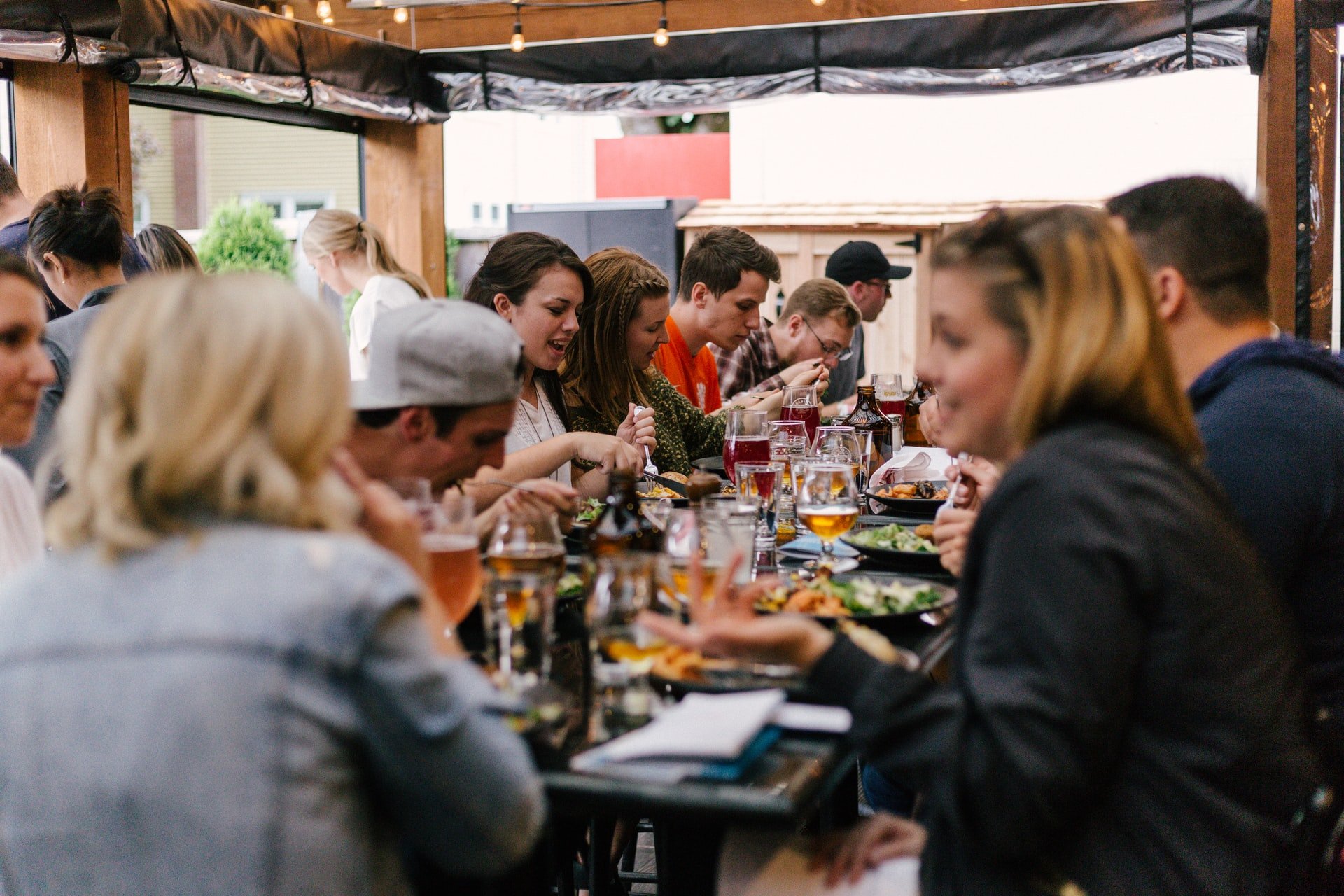 Most of our days at work are filled with seemingly endless meetings, presentations, and projects. And sometimes, doing the same thing day in and day out may leave you feeling exhausted. From time to time, especially if you're a manager, you should look into planning team building dinner events. These enriching after-work affairs at restaurants for large groups Raleigh inspire and motivate employees, improve morale, and help each member of the organization become more productive and happier at work.
So, whether you manage a team or if you're looking to give yourself and your coworkers an opportunity to bond outside the office, a team building dinner benefits everyone. Not sure where to start? We made a quick guide that highlights the importance of team building dinners, how to get started, what activities to try, and why restaurants for large groups Raleigh are the perfect place to hold these events.
The Benefits of Team Building Dinners
You empower your employees & coworkers
When a person feels valued, they naturally develop the desire to continuously improve their craft. Your workers or employees are no different. When they feel they are part of something important, they look forward to coming to work every day because they become more aware of their role, which helps them be more confident with their skills. What better way to show you appreciate your team than by inviting them to a dinner party at some of the popular restaurants for large groups Raleigh? Remember: happy and motivated employees perform better, and delicious food never fails!
You bring people together and encourage collaboration
It's easy to feel left out when you're at a company event and you're the only member from your department and everyone seems to be having fun. Team building dinners aim to bridge this gap by encouraging people from other departments, other floors, or even other office branches to get together and connect. And even though you need a bigger space to accommodate more people, many restaurants for large groups Raleigh offer private rooms so you can make your event exclusive to folks from your organization.
You can help employees communicate better
Oprah couldn't have said it any better: "Great communication begins with connection."
If you work at a big company, employees rarely get the opportunity to connect with people outside their department, as well as senior management or bosses at work. During a team building dinner, everyone at the event can easily connect and get to know each other better. Your coworkers can also learn how to appreciate each person's communication style as they network and start conversations with people they don't interact with every day.
Try These Team Building Activities
When it comes to planning a program, here are some fun activities you can include to enliven the evening:
Mystery Dinner
Many restaurants for large groups Raleigh specialize in serving a fusion of French, Southern, and Asian cuisines, so ask the restaurant staff to prepare a special dish and have your coworkers guess what's in it! Form a team (preferably composed of employees from different departments) and put their tasting skills to the test.
It will be interesting to see people work together to identify unusual flavors and ingredients, and maybe even encourage them to try new dishes. This activity also teaches them to learn how they can work with diverse teams to achieve their goals.
Workplace Trivia
Before the event, prepare a list of questions you want to ask employees. Ideally, questions can be about the company, quirky facts about the workplace, or anything that sparks common interest. This is a terrific way to break the ice and encourage your coworkers to step out of their comfort zones.
Why Choose Restaurants for Large Groups Raleigh? 
Hosting a fun and successful team dinner is perfect when you do it at restaurants for large groups Raleigh because it can accommodate a lot of people. Moreover, you can also speak with the restaurant staff if you want specific decor in the room, music, thematic designs, and so forth. Before you get started, make sure you discuss the following with the folks helping you plan this event to make it memorable:
Budget
Decide on a rough budget and consider how the food, activities, prizes, recognitions, and other expenses factor in saving you from any headaches when dinner is over.
Goal
Are you celebrating a recent company milestone? Was it rough for the company the past few months and you want to motivate your employees' loyalty and trust in you? There could be many reasons why you want your work buddies to feel that they are important. Make sure you have the right activities and space. To achieve your goal, do you need to book the entire restaurant, a private room, or close a section of the restaurant for large groups Raleigh?
Documentation
Consider hiring a professional to take photos or videos during the team building dinner. Having these up on the office board or posted on your social media page is a great way to remind your coworkers that having fun outside the office is possible. This could even spark their excitement about future events and reinforce the idea that you value a positive culture at work. Those who couldn't attend will be inspired to attend the next one!
There's so much to do together!
Teamwork definitely makes the dream work. Planning team building dinners at restaurants for large groups Raleigh might be overwhelming, but similar to the goal of the event, it can be done with the help of your coworkers. When you set aside time to show appreciation to employees, it creates a ripple effect and strengthens your organization's culture of collaboration and positivity. So, start planning that much-awaited team building dinner and get everyone together for a night of great food, fun, and learning along the way.