The Best Cocktails in Raleigh: A Q&A with Erick, Bar Manager at Margaux's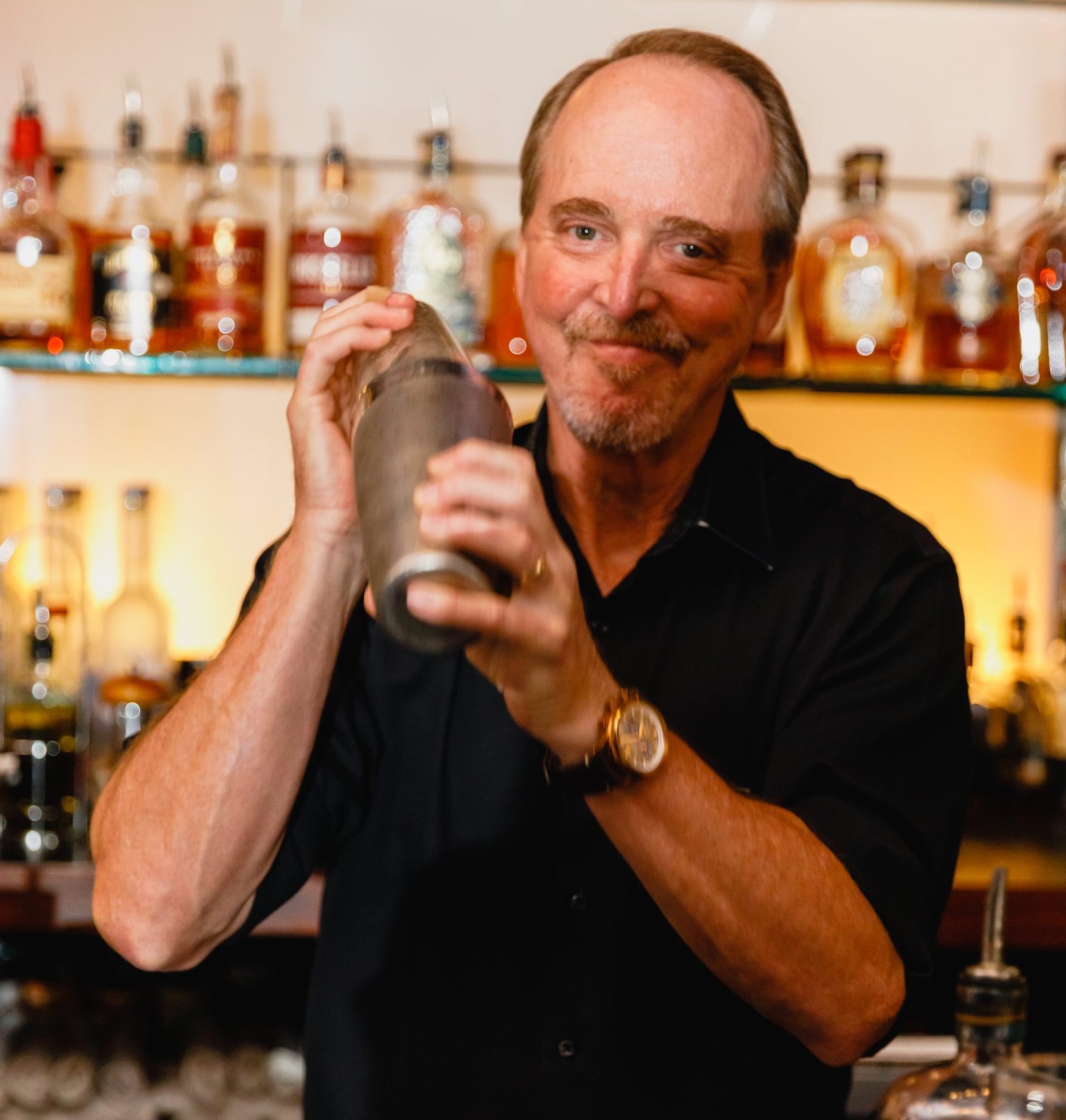 Margaux's is a popular spot in Raleigh for its delicious food and creative cocktails. We can thank Erick Beidler for the best cocktails in Raleigh. He is a very integral part of our team. We call him "Puddin" because he is super smooth and easy going on the outside, and intensely perfectioned on the inside. He is our bar manager, but there's a lot more to him than good drinks. We asked Erick a few questions so that you can get to know "Puddin" better.
What's your favorite drink?
"Budtini"= Budweiser and a shot of Jägermeister, or good, muddled Bourbon Old Fashion with Bulleit bourbon.
How long have you been working at Margaux's?
Since Easter 1997…26 years and counting. Started out serving desserts that day where the Sushi bar used to be at the end of the bar. I was on the floor for about 6 years as a server and then came up to the bar and worked with Jim Beriau, Shawn White, Pete Ekensterna and his wife, Kim Tosch. I have been the bar manager for about 20 years. I have worked with many other great friends and bartenders since.
What makes Margaux's so special for you?
I have felt very comfortable here since I started.
I was part owner of a restaurant in Charlotte from December of 1990 until March of 1994. It was called "Cafe Morel's on East" located on East Boulevard. It was an old house, a lot like the Second Empire here in Raleigh and one of my partners and I lived upstairs. We invested with a well-known Chef named Dean Mitchell from Banner Elk, who had a small restaurant up there. He was a chef at Linville Ridge Country Club before that and that's where we met. Scott Howell, formally of "Nanas" in Durham, was also at the club and is also a Kappa Sigma fraternity brother. So, I had worked with some great chefs before coming to Margaux's.
I also received a lot of formal training from working at the club and many other restaurants in the Boone, Blowing Rock and Banner Elk areas. I was aware of what really good food and excellent service is all about. Margaux's Is special to me for that reason. I heard it was one of the best restaurants in Raleigh to work at and it was very similar to my restaurant in Charlotte and many of the places that I had worked. It felt like my own, like I was continuing my work history at my own restaurant. I've treated it that way ever since.
I've watched many of my customers' kids grow up and go on and get married and have kids of their own. I've had some of my customers' family members pass away and have been there with them to help ease their pain with sympathy and compassion. I've been through that same pain with my own family and have been able to get through it with the help of my customers and colleagues.
I've watched our own staff members go on and accomplish college degrees and move on to other great jobs and become great leaders in their own lives. I would like to think that I might have had something to do with that by mentoring them and sharing some of my life experiences.
By learning my customers' names and desires, I've become a part of their family. The Bartholomew's and Kathy and my boss, Steve, are a case in point. Steve and Stacey's two sons, Jeremy and Zach, and daughter, Jillian, are like my nephews and niece. Everyone who I've worked with and had the pleasure to take care of, over the years, is like a second family to me and my wife Beth.
How did you get into bartending?
Pretty much got into bartending because of progression in the industry and because of my experience at my own restaurant.
My partners and I were working partners. One was the chef, one was the main waiter, and I was the bartender. We had hostesses and waiters and other bartenders, but all our guests knew we were the owners. That's what an owner of a restaurant is; a busser, a waiter, a bartender, a dishwasher, etc.
I also took an international bartending course here in Raleigh in between semesters for one year while attending Appalachian State University. I like the challenge of being part of a well-oiled team and being in control of the main product of the restaurant. It feels like running my own small business within the business. And Steve trusts me and allows me to do so.
What's something about you that most guests don't know?
I was invited to walk-on for the App State football team as a receiver and punter in 1981 from Erwin High School in Erwin, NC. I was on the team for two years before I decided to take more time for college, intramural sports and my fraternity.
I have a direct lineage to Presidents John Adams and John Quincy Adams on my mother's side of the family.
I went to Appalachian State University and graduated with a double major in Business with Marketing and Management. I've been in the restaurant business ever since with a few exceptions. Before coming to Margaux's, I worked in sales and installation for Gray, Inc., who sold and installed residential and commercial security and camera systems.
I'm an accomplished "handyman" and have pretty much renovated my whole house. A lot of the work around Margaux's, from wine racks to flooring to plumbing to partition walls, etc., I've made.
I'm a US Army veteran because I was a member of the NC Army National Guard from 1990 to 1998, and did my basic training at Fort Bening, Ga.
I've been married to my beautiful wife, named Beth Ward Beidler, for 25 years since May 1998. She has been in the staffing business with Employbridge for more than 20 years. I proposed to her out front of the restaurant on New Year's Eve 1997. She said that when she saw me at about 11:30, I was white as a ghost and afterward she told me she thought something was up. I told her I'd work at Margaux's for about a year and then I'd get a "real" job. Well, I guess my "real" job has been Margaux's for 26 years and counting. We don't have any children, but we have plenty of nieces and nephews and are God parents to one of our friend's twin boys. We had a beautiful female Rhodesian ridgeback dog named Cassey for 14 years when we first got married and currently have a male tabby cat named Eli who is about 14 himself. And finally, I'm an avid golfer with a handicap of about 14 and follow App State football religiously.