Tips when dining out with Kids at Upscale Restaurants in Raleigh NC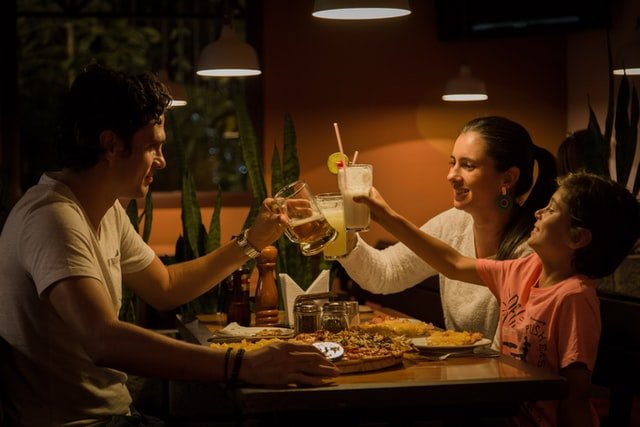 Let's be honest: it's super easy to make dinner reservations at upscale restaurants in Raleigh NC when you're planning to catch up with friends and co-workers. However, when you're thinking about taking your children with you to fine dining restaurants, you should be ready to take on more responsibility to avoid unnecessary stress or drama.
Dining out with kids requires extra planning and patience. So read on to learn some helpful and practical tips. If you're a foodie parent, remember that just because you have kids now doesn't mean you should give up the finer things in life that you enjoy. With these creative strategies, you can enjoy wonderful evening affairs while gradually introducing your little one to amazing culinary experiences!
Look for a family friendly restaurant you will all enjoy
When scouting for a place to eat, make sure you look for family friendly restaurants. Some restaurants are just way too fancy and are meant only for adult guests. Take cues from the restaurant's atmosphere: Are the lights too dim? Is the music too soft? Would children appreciate or enjoy this kind of ambiance at all? Taking your children to such places and expecting them to appreciate them may not even be possible at this point. Moreover, not all upscale restaurants in Raleigh NC can accommodate kids; some are explicit about it, while others are not. So, play it safe and call the restaurant ahead to check if kids are welcome.
Identify if the restaurant accommodates kids
Once you've narrowed down your choices, make sure to ask the restaurant staff about any specific requirements your kids need, such as highchairs or low-top tables. Fret not, because there are many upscale restaurants in Raleigh NC that go out of their way to accommodate children, like providing crayons and fun activity sheets. The last thing you want is to feel awkward when you're being led to your table and realize that the restaurant's ambiance isn't remotely child friendly.
Check the menu online 
It's a good idea to check the restaurant menu beforehand to see whether there are dishes that children can eat and enjoy. Many upscale restaurants in Raleigh NC offer a kid-friendly menu that includes entrees like pasta and chicken fingers. Other family friendly restaurants even offer free treats such as ice cream!
Keep children entertained creatively
Pack a few toys, books, coloring pages, tools for coloring, Lego, or anything that will keep your kids busy at your table, so they don't distract other diners. You can also try taking your little ones for a walk around the restaurant to visit the bathroom or look at the restaurant's beautiful décor. Just be mindful and polite to other guests. Also, avoid giving your children gadgets that may increase the risk of them throwing a tantrum when you take the devices back (and losing the full experience of dining out because they can't take their eyes off the iPad screen).
Teach them early on that using electronic devices isn't nice when you're supposed to be spending quality time with your family at upscale restaurants in Raleigh NC. Another idea is to get the rest of the family to play fun games like "I Spy" or "The Category Game" while waiting for the food to arrive.
Consider booking a private room
If you're going to celebrate a large family gathering, you may want to consider booking a private room at upscale restaurants in Raleigh NC. These private rooms aren't difficult to book as long as you meet the restaurant's required headcount. Booking a private room reduces the chances of the adults getting stressed out from chasing after kids who are running or playing around. Of course, you'll still need to keep the noise and rowdiness level to a minimum, but at least the kids can have fun in a specific area and not risk disrupting the experience of other guests at the restaurant.
Be respectful and considerate of other guests
Should your kids start to misbehave, become restless or unruly, slowly make your way out of the restaurant and see if you can change your child's mood. It's super important to be mindful of the other guests eating at upscale restaurants in Raleigh NC. An unhappy baby can irritate other diners, and a couple fighting over their crying baby will just make it worse.
If you're with a toddler, you can try to take them to a separate area, like the lobby or the washroom temporarily until they relax. For an older child, you can calmly tell them that their behavior is inappropriate but try not to make a scene. If kids continue to misbehave, don't be afraid to cut the family affair short—it's time to leave the restaurant out of respect for other diners as well as the restaurant staff.
Make it an enjoyable learning experience for the whole family
Taking your kids to eat with you at upscale restaurants in Raleigh NC is always a memorable experience. Eating out should be a respite from having to cook a meal (and clean up) at home. It should be a fun and rewarding experience for the whole family.
While there's always a chance for kids to be unruly during mealtimes at places that are unfamiliar to them, it doesn't mean you shouldn't try again. With constant practice, trial and error, and tons of patience and planning, taking children to fine dining restaurants offers a chance for them to learn new skills and experience new things.
More importantly, don't forget that you are your child's role model. Set the best example and show them the importance of eating healthy, staying calm, and the importance of spending quality time with the family.